2 out of 3 lightweight plastic items mishandled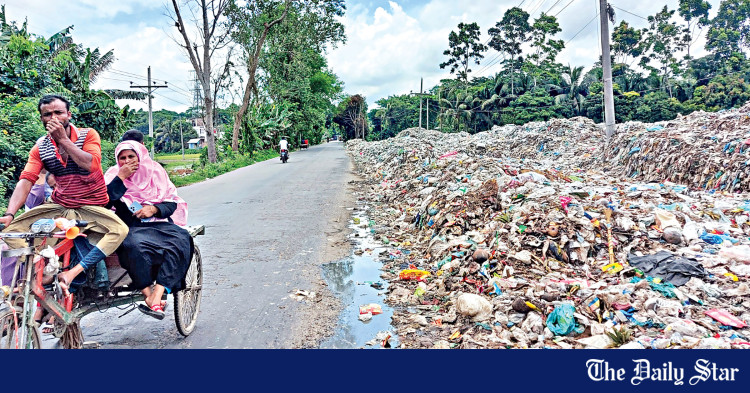 Says expert at FBCCI-Unilever seminar
Although the government has taken initiatives to tackle waste management, most remain in the form of paper laws and wish lists, experts say. Photo: star/file
">
Although the government has taken initiatives to tackle waste management, most remain in the form of paper laws and wish lists, experts say. Photo: star/file
Two out of three lightweight plastic items used in Bangladesh end up being mismanaged, mainly due to a lack of source segregation and household collection infrastructure, an expert said yesterday.
"Waste segregation at the household level, dirty plastic, lack of knowledge and motivation of waste pickers, health and safety risks and the non-formalization of the plastic waste collection industry are all an obstacle to creating a holistic ecosystem," said Ijaz Hossain.
For all the latest news, follow the Daily Star's Google News channel.
The former Dean of the Faculty of Engineering at Bangladesh University of Engineering and Technology gave a presentation at an "Enabling Policy for Sustainable Plastic Waste Management" seminar at Sheraton Dhaka.
The Federation of Bangladesh Chambers of Commerce and Industry (FBCCI) and Unilever Bangladesh jointly organized the event.
In Bangladesh, the use of plastics has increased dramatically in recent years, along with rising per capita income and affordability. The plastics industry's domestic sales amounted to around Tka 40,000 crore in 2021. More than two million people are employed in the industry, which includes more than 5,500 factories, Hossain said.
Although the government has taken initiatives to tackle waste management, most remain in the form of paper laws and wish lists, he said.
"In order to build a sustainable ecosystem for plastic waste management, it is important to work in a multidimensional approach," he said.
Hossain's recommendations include developing plastic waste collection capacity and management infrastructure, improving plastic waste recycling capacity, formalizing segregation and adding value in waste management and formal waste management by municipalities.
He also urged the government to invest in technical capacity development, learn from best practices and create a sustainable national policy.
"We will have to find innovative and smart solutions for waste management," said Tazul Islam, Minister of Local Government, Rural Development and Cooperatives.
"Also, waste collection is currently not considered sustainable because it is still not seen as a business proposition," he said.
"An effective solution would be to follow the circular system which ensures that plastic consumption does not increase and moves towards a sustainable waste management model," he said.
"Waste management is a complex process as it involves multiple industries and stakeholders," said Shahab Uddin, Minister of Environment, Forests and Climate Change.
"Our goal is to co-create practical and effective policies, in consultation with stakeholders, including brand owners, to intervene in the value chain," he said.
"It's very common for plastic use to increase with per capita income and gross domestic product, so using more plastic is a good sign for the economy," said FBCCI Chairman, Md. Jashim Uddin.
"Using more plastic is not the problem, rather managing plastic waste is the main challenge," he said.
"One of the main areas of intervention is mass awareness of waste disposal," he said.
"If we could segregate waste at source like in developed countries by increasing people's engagement, we would be able to implement a sustainable model of plastic waste management," he said.
"Separating waste at source makes waste recycling viable. We need to educate the general public on how to separate and dispose of waste and that is the biggest challenge for us," he added. .
"We have taken some pilot projects in collaboration with municipal enterprises," said Zaved Akhtar, managing director and CEO of Unilever Bangladesh.
"If our voluntary initiatives are not properly facilitated, other organizations will not be encouraged to participate," he said.
"We have to understand that one or two companies probably wouldn't be able to solve the problem. It would take the whole business community to come forward and contribute," he said.
The seminar was moderated by Shamia Akther, Director and Head of Communications and Partnerships, Unilever Bangladesh.