Aquaculture farms threaten the livelihoods of small-scale fishers on the island of TN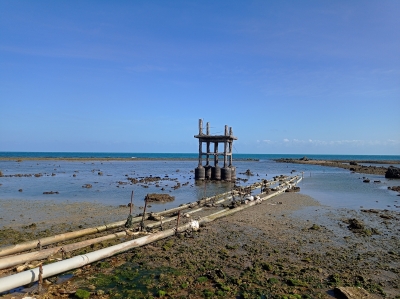 Ramanathapuram (Tamil Nadu), Aug 22 (/101Reporters) Women engaged in fishing-related activities in coastal areas of Tamil Nadu are losing their livelihoods due to rising water salinity and encroachment of commons by aquaculture farms.
Fisherwomen belonging to the marginalized caste groups of Mutharaiyar and Kadayar manage to make ends meet by harvesting natural seaweed such as Gelidiella (known in Tamil as Marikkoluntu paci), cultivating seaweed, mainly Kappaphycus, collecting shellfish and engaging in small-scale farming, in addition to raising livestock. and fishing in coastal waters.
During the favorable season (November to February) for Kappaphycus, a fisherwoman can earn up to Rs 500 per day, while auxiliary activities can earn between Rs 150 and Rs 200.
For these women to be able to continue these activities and contribute economically to their families, safety on construction sites, uninterrupted access to the seaside, unpolluted coastal waters and the availability of drinking water are essential. Locals blame fish farms for increasing salinity, both on their land and in household wells, polluting water used for farming.
Lack of capital, both availability and access to it, has prevented these communities from investing in aquaculture farms and mechanized fishing. Therefore, they fish in coastal waters using passive fishing gear and small rafts.
Nirmala from Ariyankundu hamlet on Pamban Island in Ramanathapuram said, "We used to grow cereals on this land seasonally, but lack of rain, low crop yields and increased real estate values ​​have prompted some residents to sell their land to fish farm owners. the increase in soil salinity has forced many others to cede their land to these farms."
However, the struggles of women fishermen are not new. Kalpana Ram in her 1992 book Mukkuvar Women argued that fishing has prevented women from directly accessing resources at sea and that they can only be engaged in ancillary activities such as selling fish, salting fish and net repair.
In recent decades, the modernization of fisheries, including the introduction of trawlers and the development of coastal areas, have alienated women fishers from their traditional sources of livelihood. In the book Sengeni, author Amidhavalli pointed out that fisherwomen in Pondicherry are gradually moving away from fishing-related activities and working as servants and laborers.
From hope to despair
In the early years of aquaculture farms, many believed that these farms would provide them with job opportunities. At the end of the 1990s, these farms indeed welcomed local workers. When preparing the ponds for cultivation and during the harvesting of shrimp, a farm owner may employ about 50 to 60 locals, both men and women, for three to four weeks.
Additionally, a farm owner may regularly employ four to five local men to tend to shrimp production. These opportunities have somewhat drowned out the initial protests against aquaculture farms, which were taking root in the coastal districts of Tamil Nadu, Pondicherry and Andhra Pradesh. There was an organized movement by farming and fishing communities against commercial shrimp farming which culminated in the famous case of S Jagannath v Union of India, where the Supreme Court issued orders highlighting the social and ecological impacts commercial shrimp farms.
A year or two after the introduction of P. vannamei, a Pacific white shrimp, in 2009, the number of aquaculture farms began to proliferate. Frequent disease outbreaks and heavy financial losses have led farmers to stop growing P. Monodon (tiger shrimp) and switch to P. Vannamei.
The introduction of automation in earthworks, new types of fishing nets and the influx of cheap migrant workers from West Bengal and Odisha have changed the whole production process. Gradually, the number of locals employed by these farms began to decline.
According to Murugesan, effluents that have been drained into coastal waters after shrimp harvesting affect the growth of Kappaphycus.
Aquaculture farms on Pamban Island use seawater for fish farming and have laid pipes on the seashore to pump water into the shrimp ponds. Untreated sewage from farms is normally discharged into the sea. During the 'busy' season, i.e. the northeast monsoon when the weather is windy and storms set in with big waves , it is discharged into the stormwater lake, locally called Pancha Kalyani.
Balarajan, a small-scale farmer and herder, told 101Reporters that the effluent destroyed edible vegetation, including shrubs, coconut palms and palm trees, and contaminated the Pancha Kalyani. Since this body of water is an important aquifer here, drinking water from domestic wells has also become saline.
Studies have shown how artificial inputs in the form of fertilizers, feeds and drugs, which are given for optimal shrimp growth, are washed into the canals as effluent during harvesting; the large quantities of sewage discharge pose a serious threat to the coastal ecosystem and groundwater.
Moreover, in order to pump sea water for cultivation, many aquaculture farms have illegally encroached on the coastline to build pumping rooms and install PVC pipes.
Unresolved regulatory issues
In May this year, a fisherwoman was raped and murdered in the village of Vadakadu on Pamban Island, allegedly by two migrant workers from a fish farm. A few days before the incident, the workers had made obscene comments to the victim while she was working alone. She had shared this unpleasant experience with some of her close relatives. After the crime, the locals retaliated by ransacking the farm and soon several irregularities began to appear.
Karunamoorthy, a local leader of the Tamil Nadu Fish Workers Federation (CITU), said the island has more than 100 fish farms. "Many are operating without proper licensing. It was only after the horrific incident that the Departments of Fisheries and Revenue discovered that the farm in question was operating without proper licensing under the Fisheries Authority Act 2005. coastal aquaculture," he said.
Saravanan, an expert in coastal commons mapping, said that under section 13(8)(a)(b) of the Coastal Aquaculture Authority Act 2005, such farms should not be located less than 200 m from the high tide line (HTL) .
"This particular farm is located 30m from the HTL and its engine room is located inside the HTL. to the farms," ​​Saravanan explained.
Fisherwoman Lakshmi (name changed on request) told 101Reporters that the representatives of the farm in question had threatened these women against trespassing and on another occasion they forcibly removed the thatched-roof huts that these women use to repair nets, work on rafts, eat food and rest during hot afternoons. The farm had claimed that part of the coastal waters were part of its patta. "As we had no means of verifying this claim, we simply withdrew," she added.
Rameswaram Municipal Chairman KE Naazarkhan said the municipality passed a resolution on June 22, 2022, asking the state government to close all aquaculture farms in the area and not issue new licenses.
"The proliferation of aquaculture farms has contaminated potable groundwater. Moreover, the import of migrant workers into the region creates security issues," he explained why such a resolution has become necessary.
Meanwhile, Shalini (name changed on request), a friend and colleague of the victim, is still reeling from what happened in her own backyard. "We don't feel safe now to access the seaside and coastal waters alone," she remarked.
(The author is a freelance journalist based in Pondicherry and a member of 101Reporters, a pan-India network of local journalists.)
Disclaimer: This post was auto-published from an agency feed without any text editing and has not been reviewed by an editor
Open in app