Between diesel prices and high seas: Many fishermen unable to set sail this season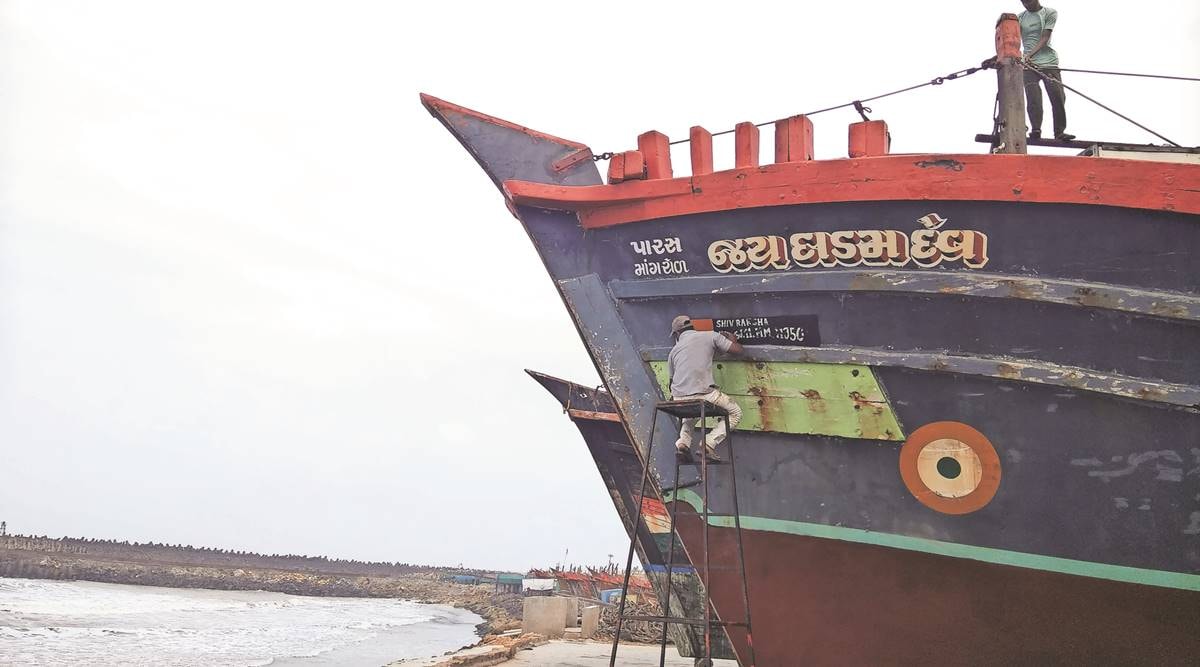 The fishing season begins on Wednesday but a precarious calm reigns in the port of Mangrol, in the district of Junagadh, one of the largest fishing centers in Gujarat. Fishermen are very worried, due to the high price of diesel as well as the drop in seafood export volumes and low consumption in the domestic market due to the Covid-19 pandemic. Leading fishermen fear that a significant number of fishermen will not be able to set sail this season.
Devchand Vardhan, a khalasi (crew) aboard a fishing boat, who rides the road lined with hundreds of trawlers in the harbor as the waves crash into the tetrapods, says: "Diesel costs Rs 97 per hour. liter. I don't know if the owner of the boat I work on can afford such high prices.
Gopal Sukhadiya, whose family owns five trawlers, shares Vardhan's concerns. "The price of diesel has dropped from around Rs 65 per liter at the start of the fishing season last year to Rs 97 now. Other than that, China, the biggest importer of Indian seafood products, does not buy our fish. So even if I get a good catch there is no certainty that I will get a good price, "said Sukhadiya, 56, adding:" The last fishing season has been lost due to the pandemic. of Covid-19 and the subsequent crash of the fish market. . I had to borrow money from three people to pay off the bank loan.
Fishermen without work at the fishing port of Mangrol. (Express photo by Gopal Kateshiya)
The fishing season in Gujarat usually starts from August 15th and ends on May 13th. However, the state government pushed it back to September 1 of this year, anticipating rough sea conditions during the rainy season.
Sukhadiya finds relief in the fact that her turn to lower her boat into the harbor will not arrive until around September 21. "At that point I should be able to get a feel for how this season is going to go. Having said that, I will have to end up going overboard as that is the only thing we know. "
According to fishermen, a trawler burns approximately 3,500 liters of diesel during a typical fishing trip lasting 15 to 21 days. "Due to the soaring price of diesel, a fishing trip this season will likely cost at least Rs 4 lakh, a quarter more than last year. A trawler carries around 4000 liters of fuel, ice worth Rs 25,000 and a crew ration worth around Rs 10,000. A boat owner pays around Rs 70,000 to the tandel (captain) and the khalasis. But there is no certainty about the capture. A boat can come back with a catch worth Rs 4 to Rs 6 lakh or as low as Rs1.5 lakh. A lot depends on luck, "explains Damodar Chamudiya, president of Mahavir Machchhimar Sahkari Mandali, a cooperative society of fishermen from Mangrol.
The state government is giving a VAT refund to fishermen on diesel and a subsidy of Rs 25 per liter on kerosene to owners of pilanas – smaller boats powered by on-board engines (OBMs). However, the VAT rebate is capped at Rs 15 maximum per liter and is available up to 24,000 liters per year per boat. The kerosene quota has also been set at a maximum of 150 liters per month.
The Gujarat Fisheries Central Cooperative Association (GFCC), a federation of fishermen's cooperative societies operating under the aegis of the state fisheries department, is issuing tenders for the supply of bulk diesel to its vending stations in fuel retail located in all major ports. Petroleum marketing companies usually supply diesel to GFCC gas stations at prices up to Rs 3 lower than other retail outlets.
According to data from the Gujarat Fisheries Commissioner, the production of marine fish in Gujarat was seven lakh metric tons (mt) in 2019-2020. The state exported 2.79 tonnes of seafood that year, the lowest in three years, data showed. This was largely due to the stagnation of the Chinese market, says Jagdish Fofandi, president of the Seafood Exporters Association of India (SEAI).
"China accounts for around 40-50% of Gujarat's seafood exports in value and more than in volume. But because of Covid, the Chinese market has become destabilized and as a result, exports to this country have decreased by 20% in volume and value last season. This put pressure on products oriented to the Chinese market, causing prices to drop by around 20%. However, the prices of products exported to European countries, United States, Canada, Gulf, etc., have seen a general upward trend, "Fofandi said, adding that SEAI expects a recovery in Chinese demand this season.
About 2,000 boats operate from Mangrol port, but the Mangrol Kharva Boat Association (MKBA) says about a third of them will not be able to resume fishing this season. "Occasional fishermen have not been able to settle their loan maturities over the past two years and they may not be able to keep up with increasing input costs. About 30 percent of the boats here will not be able to go to sea because their owners have exhausted their savings and solvency, "says Jamnadas Vantur, vice president of MKBA.
Mukesh Panjari, president of the Porbandar Machhimar Boat Association, said the diesel price at Rs 65 was within the fishermen's tolerance limits. "We could even extend it to Rs 70. But Rs 97, which means at least Rs 80 for us, is way too high. It especially hurts at a time when we have to move away from the coast in search of a good grip, as pollution destroys marine life in the waters near the coast, forcing us to burn more diesel, "said Panjari. , adding about 30% of the nearly 4,000 boats in Porbandar might not be able to operate.
Fishing boats at the port of Mangrol. (Express photo by Gopal Kateshiya)
Tulsi Gohel, president of the Samyukta Machhimar Boat Association in Veraval, the state's largest fishing port with around 7,000 boats, also shares similar estimates.
"Rising diesel prices can be overwhelming for fishermen. The difference in the price of subsidized diesel has kept fishermen's incomes sustainable, but we are now entering new territory, "says Velji Masani, National President of the All India Fishermen Association and Mangrol fisherman.
The worries of fishermen are also due to the instability of overseas fish markets, explains Dhanji Oza alias Babubhai, president of MKBA. "Previously, Chinese importers would come here personally, check the quality of the fish and pay in advance after placing an order. It stopped five years ago. Now we sell our fish to traders, who in turn supply it to exporters. As they do not pay in advance, payment to fishermen is delayed and sometimes traders manipulate the situation, "Oza explains.
Market officials also add that Mumbai, Ahmedabad, Pune, Surat, etc., are large indoor fish markets, but as hotels were closed or did little business due to Covid-19, the price of fish went downhill. also declined in the domestic market.