Cape Seafoods Raises Nearly $500,000 to Grow and Diversify | New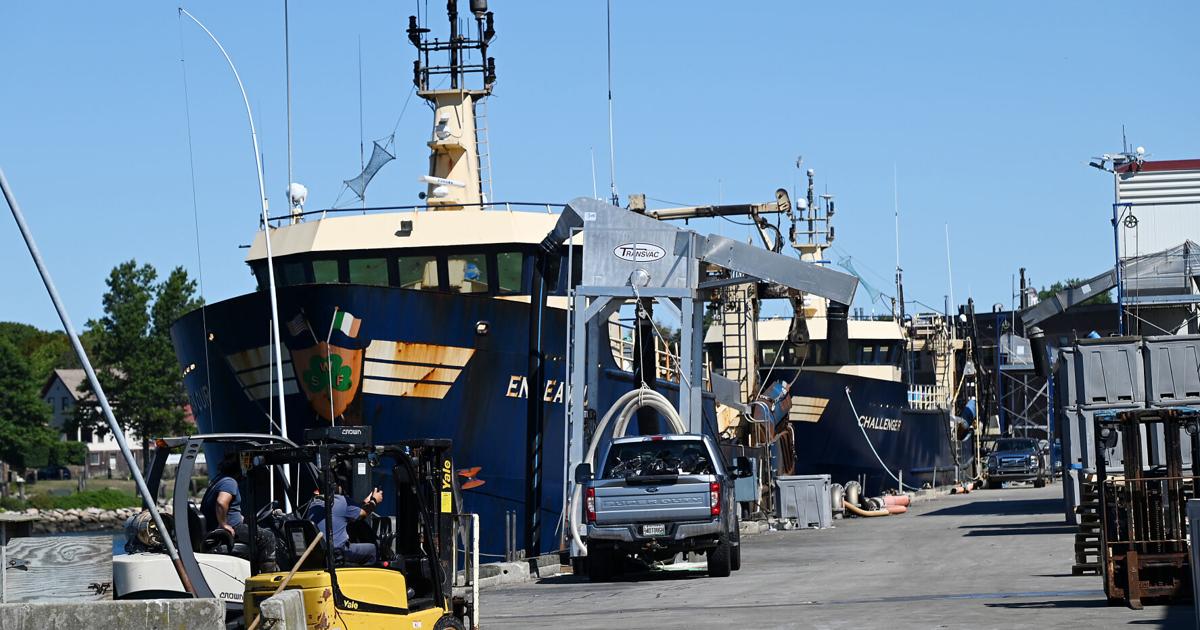 Mainly family-owned and operated Cape Seafoods Inc., a major presence on Gloucester's waterfront, has received nearly $500,000 in loans from MassDevelopment as its business hires and diversifies.
The company received a loan of $395,542 from the CARES Act Revolving Loan Fund and an equipment loan of $86,458 from MassDevelopment, the agency said in a prepared statement.
Cape Seafoods' sprawling mackerel and herring processing plant, cold storage and wholesale bait shop dominate much of the Everett R. Jodrey State Fishing Pier where pelagic trawlers Western Sea Fishing's FV Endeavor and FV Challenger are moored. Western Sea Fishing is the fishing partner of Cape Seafoods.
With this funding, MassDevelopment said Cape Seafoods plans to create eight additional full-time jobs and 10 part-time jobs over the next three years. The company will use the funds to build and equip a new seafood processing room to process groundfish such as plaice, hake, halibut and cod.
"We are in an industry that has many significant hurdles to overcome on a daily basis due to environmental conditions, market conditions and the challenges created by quota limitations," said Cape Seafoods, Inc. President Gerry O' Neill, in a prepared statement. "We greatly appreciate the Commonwealth's support with this grant. This will give us the opportunity to diversify our activities in order to survive in this constantly changing environment. It will also allow us to put in place equipment to modernize groundfish processing in Gloucester and hopefully strengthen local fishing and processing industries. None of this would be possible without the continuous and strong support of MassDevelopment over the past 21 years. We are both grateful and fortunate to have teamed up with such a strong partner.
Founded in 2001, Cape Seafoods, Inc. is a year-round seafood supplier to fish harvesters and seafood distributors, known for its quality, consistency and freshness, MassDevelopment said. Its cold storage can hold up to 4,000 metric tons of seafood. Mooring services include docking, waste removal, shore power and unloading. Transshipment services include the transfer, holding and storage of seafood. The Cape Seafoods bait shop at the end of the pier serves those in need of frozen, fresh and salted produce, lobster and regular fishing bait.
In April 2022, the Commonwealth's Executive Office of Energy and Environmental Affairs awarded Cape Seafoods a $482,257 grant from the Food Security Infrastructure Grants Program.
"MassDevelopment has been a valued partner to the City of Gloucester on a number of impactful projects," said Mayor Greg Verga. "This latest fundraiser to Cape Seafoods will help a local business become more efficient, create more jobs and continue to provide a product that is an integral part of our local economy."
Herring quota cuts in recent years have hampered Cape Seafoods' associated pelagic trawlers that harvest herring and its bait business that helps supply lobster fishermen in the state's most lucrative lobster fishing port .
"For many years, the herring fishery was something we took for granted because of an abundant stock and a certainly robust harvest," said the state's Senate Minority Leader, Bruce Tarr of Gloucester, in an interview. "But in recent years it has become a tougher fishery with increased regulations and a highly migratory fish stock that requires much more sophisticated efforts to harvest. So the grant is really helping to nurture this particular business by helping to move forward and deal with what is a fishery that's changed from what it used to be, which was just based on high volumes and just kind of a more simplistic approach, let me put it this way."
Verga echoed Tarr.
"It's an evolving fishing industry," the mayor said. "As I have said many times and it seems cliché at this point, the fishing industry is not dead, it is different and anything we can do to help the industry and players to adapt to changing times, we'll do what we can.
Ethan Forman can be reached at 978-675-2714 or [email protected]