Fisheries stakeholders trained in bycatch awareness, information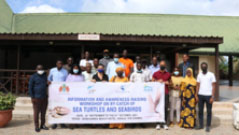 The project aims to establish an operational framework to minimize bycatch of seabirds and marine turtles in industrial fisheries in West Africa and to implement it across the region.
Anna Mbenga-Cham, Director of Fisheries, said bycatch of seabirds and sea turtles are very serious threats that have required training of stakeholders to mitigate threats faced by seabirds. sea ​​and sea turtles in trawlers and longline operations at sea.
She explained that in 2009, the Food and Agriculture Organization (FAO) developed guidelines to reduce marine turtle mortality in fishing operations.
The directive offers management options to reduce the interaction between sea turtles and fishing gear and reduce the proportion of captured turtles that are killed as a result of interactions with marine capture fisheries, she said. .
She added that the conservation and management of high seas wildlife poses logistical, financial and technical challenges for marine wildlife.
Cyrille Mbangue, communications officer for the Regional Coastal and Marine Conservator for West Africa (PRCM), said the PRCM is one of the main players in marine conservation in West Africa.
"We want to contribute to the harmonization of fisheries governance and legislation, but above all, of issues related to fisheries," he added.
The bycatch project works to reduce incidental captures of birds and sea turtles in the region, he said.
Seabirds and sea turtles share the same reproductive characteristics on land, favoring undisturbed coasts and islands, he said, adding that both groups are often threatened in their breeding grounds and at sea. .