Give them the pay they deserve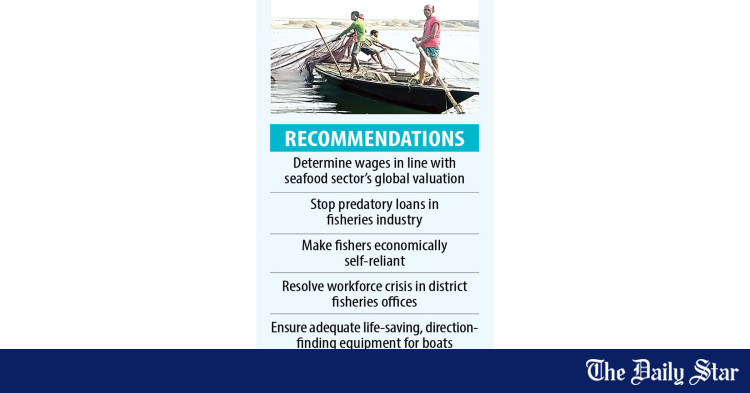 The government must quickly determine fishermen's wages based on the global valuation of the seafood sector and put an end to predatory lending in the fishing industry, participants in a program said yesterday.
In Bangladesh, gender-based sexual harassment and wage discrimination are rampant. A man earns Tk 800 for a day's work, while a woman earns only Tk 350. Additionally, labor laws do not cover workers in the fishing industry, they said.
For all the latest news, follow the Daily Star's Google News channel.
They made the request at a report launch event and dialogue titled "The Plight of Fishermen and Seafood Workers in South Asia."
Bangladesh Nari Progati Sangha (BNPS), Textile Garments Workers Federation, INCIDIN Bangladesh, Jonouddog and South Asia Alliance for Poverty Eradication (SAAPE) jointly organized the program at Dhaka Reporters Unity.
Addressing the event, marine researcher Mohammad Shahid Ullah said fishermen had to take out predatory loans, locally known as "Dadon loans", ahead of the fishing season to support their families and survive. during the lean season. Fishermen have to repay the loan with the money they get from their catch, which is quite unpredictable.
Reshma Shakya, head of advocacy, communication and monitoring at SAAPE, said the majority of workers are temporary and therefore have no job security. In addition, workers are denied the minimum wage declared by the government.
Lawyer Moloy Bhoumik said indiscriminate fishing is deteriorating the fish stock. This endangers the livelihoods and working environment of coastal fishers.
Razequzzaman Ratan, deputy general secretary of the Socialist Party of Bangladesh, said the highest worker death rate in the country is in the fishing sector.
"Fishing trawlers don't have life jackets, adequate buoys or direction finding equipment," he said.
Development expert Syed Ali Azher said that to stop Dadon loans, the government should make fishermen economically self-sufficient. In addition, authorities need to address the manpower crisis in district fisheries offices.
Abul Hasan, chairman of the municipal committee of the Bangladesh Workers' Party, said adequate rescue and direction-finding equipment should be made compulsory for boats.
In addition, the authorities should help women fishermen and workers to set up their businesses, he said.
Shahnaz Sumi, Deputy Director of BNPS, led the event. SAAPE published a regional report there on the situation of workers in the seafood sector. It covers the scenario in Bangladesh, Sri Lanka and Pakistan.
About 10 fishermen and activists spoke at the event.