High prices boost Lerøy's start-of-year earnings, thwart rising input costs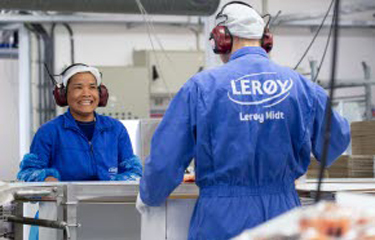 Very high seafood market prices pushed Lerøy Seafood Group ASA's (LSG) first quarter 2022 revenues up 12% year-on-year to over NOK 5.5 billion (USD 558.9 million, 538 million), while its operating profit (before fair -value adjustments) increased from NOK 397 million (USD 40.3 million, EUR 38.8 million) to NOK 852 million (USD 86.6 million, 83 .3 million EUR).
The Bergen, Norway-based seafood company's first quarter 2022 report said strong demand for seafood, including a substantial improvement in realized prices for the group's main products, was the driving factor. more important behind the improvement in earnings compared to the same period last year. Even though its salmon and trout slaughter volumes in the first quarter decreased by 10,000 metric tons (gutted weight) compared to the first quarter of 2021 to 32,057 MT, the company increased its earnings before interest and taxes (EBIT) from NOK 6.00 (USD 0.61, EUR 0.59) per kilogram to NOK 19.40 (USD 1.97, EUR 1.90).
"We saw an extreme movement in seafood prices in the first quarter, especially for salmon and trout. This development has been positive for revenues from whitefish farming and capture, but poses a temporary challenge to revenues from the group's downstream operations," said LSG CEO Henning Beltestad.
LSG's Agriculture segment (comprising its three Norwegian agricultural regions of Lerøy Aurora in Troms and Finnmark, Lerøy Midt in Nordmøre and Trøndelag, and Lerøy Sjøtroll located in Vestland) recorded operating profit before fair value adjustment related to assets of NOK 621 million (USD 63.1 million, EUR 60.7 million) in the last quarter, compared to NOK 251 million (USD 25.5 million, EUR 24.5 million) a year earlier.
According to the first quarter report, the average price of salmon over the three-month period was NOK 79.70 (USD 8.10, EUR 7.80) per kilogram, compared to NOK 59.70 (USD 6.07). , 5.84 EUR) in the fourth quarter of 2021 and 52.10 NOK (5.29 USD). , 5.10 EUR) in the first quarter of 2021. This represents a price increase of 20 NOK (2.03 USD, 1.96 EUR) per kilogram compared to the previous quarter, and an increase of 28 NOK (2.84 USD , EUR 2.74) per kilogram compared to the previous year.
Price increases have not been limited to the price of salmon alone, as costs across the business have increased, said Beltestad.
"We are seeing very steep cost increases across virtually all inputs, with feed price increases being the most evident. This will lead to higher costs in 2022 compared to previous years. At the same time, it appears so far that the realized price increase will be greater than the cost increase," Beltestad said.
For the full year 2022, LSG estimates a total salmonid harvest in 2020 of 208,000 MT, of which 23,000 MT will come from associates and its projected volume from Scottish Sea Farms' new acquisition, Grieg Seafood UK
Within LSG's Wild-Catch segment, its subsidiary Havfisk's total catch volume was 25,116 metric tons (MT) in the first quarter of 2022, compared to 25,721 MT in the first quarter of 2021. Its main species caught were cod ( 10,023 MT), haddock (7,441 MT) and saithe (3,510 MT). Compared to the first quarter of 2021, its average selling price for cod increased by 46%, haddock increased by 24% and saithe increased by 37%.
Lerøy Havfisk had 10 trawlers in operation during the quarter.
While catch value increased significantly, segment profitability was negatively impacted by higher costs, including increased crew and fuel costs. Compared to the first quarter of 2021, total fuel consumption remained the same, but fuel prices were around 50% higher.
In addition to Lerøy's LNWS whitefish processing activities, the segment recorded an EBIT of NOK 236 million (USD 24 million, EUR 23.1 million) for the first three months of 2022, compared to NOK 185 million (EUR 18.8 million). USD, 18.1 million EUR) in the same period of 2021.
The main activity of LNWS is the processing of wild whitefish. The company uses 12 processing plants and buying stations in Norway, five of which are leased to Lerøy Havfisk.
"Strong demand and falling quotas are key drivers behind the positive development in whitefish prices. This is boosting trawler fleet revenues, but challenging land industry revenues," said Beltestad.
LSG's Value Added, Sales and Distribution division reported higher revenues of NOK 5.1 billion (USD 518 million, EUR 498.7 million) in the first quarter of 2022, mainly due to higher demand during the period, the company said.
However, Beltestad said the increase in seafood prices and transport costs in the first quarter was much higher than expected, which put temporary pressure on margins in the group's downstream operations and will impact on the business in the second quarter.
"At the same time, we have developed a strong and integrated seafood value chain, and it remains stable with a good position to gain new market share in turbulent times," he said. he declares. "The long-term outlook for our own downstream operations has remained unchanged."
Photo courtesy of Leroy Seafood Group ASA