India's criminal trade thrives on re-exporting sea cucumber via Colombo | Print edition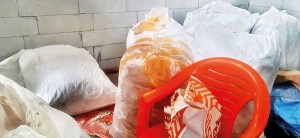 Views) :
By S.Rubatheesan
In Mannar, sea cucumber farms for the export market have become the new "success story" in recent years as long as one doesn't care where the sea delicacy comes from, as it earns hard currency.
Local fishermen who hold licenses to harvest sea cucumbers from the wild, set out early in the morning in small groups to reach an agreed location through satellite coordinates only to wait for a boat across the Palk Strait, while pretending to engage in diving.
Once contact is established, sea cucumbers harvested illegally by Indian bottom trawlers and processed sea cucumbers from southern India would be transferred to other fishing boats to make them look like a fresh catch.
The currency for these transactions is often gold, either in the form of melted down "biscuits" or as jewelry worn by fishermen to avoid detection.
Once ashore, the catch is registered as a local harvest and immediately transferred to a nearby warehouse for further processing, then transported to Colombo by agents for export. The illegal sea cargo would be declared as a Sri Lankan origin export to Southeast Asian countries.
"The Indians are arbitrarily engaged in harvesting sea cucumbers from our waters on top of the ongoing disastrous bottom trawling activities and then reselling the same to us with added value," said the secretary of the Mannar District Fishermen Federation. Union, NM Aalam. the Sunday Times.
In 2001, India banned the harvesting of all varieties of sea cucumber and declared it a protected species under the Indian Wildlife Protection Act 1972, while in Sri Lanka it is legal and harvesting can be done under a licensing system.
A few weeks ago, a massive shipment of dried sea cucumbers and shark fins believed to have been smuggled into Sri Lanka was recovered by Indian police in Ramanathapuram, Tamil Nadu. The market value, according to Indian reports, was 50 million Indian rupees.
Sea cucumbers illegally harvested from Sri Lankan and Indian waters are smuggled into the country and re-exported to countries in Southeast Asia, where they are considered a delicacy and also used in traditional Chinese medicine. .
The North Sea has become the hub for the smuggling of not only Kerala ganja and other illegal drugs, but also sea cucumbers, turmeric, pharmaceuticals, electronics and kerosene.
According to the Ministry of Fisheries-2021 Progress Report, Sri Lanka exported 326 metric tons of sea cucumbers worth Rs 1.5 billion in 2020. Exports continue to increase. Between January and September last year alone, 184.8 MT of sea cucumber shipments worth Rs 1.123 billion were exported.
Today, the Ministry of Fisheries is setting up new sea cucumber farming hatcheries and joint ventures with foreign companies.
Last year it was tasked with issuing 120 new export permits for sea cucumber and another 180 for transportation, and by September the Department of Fisheries had issued at least 46 and 79 permits respectively, according to the report. of stage.
Given the strong export demand, the ministry has identified about 5,000 acres of land with high potential for sea cucumber farming in the shallow waters of Mannar, Jaffna, Kilinochchi and Kalpitiya. To increase exports and provide livelihood options, sea cucumber export villages were also established last year in Valeipadu and Iranativu in Kilinochchi.
Over 200 permits were issued to local fishers to harvest sea cucumbers in two categories of scuba diving or wild harvest scuba diving in Mannar. But no regulations are imposed, which has also led to conflicts within the fishing community.
According to the regulations, scuba diving, known as free diving, can be practiced in shallow waters and scuba diving is only allowed 7.4 kilometers beyond the coast. Skin divers allege that divers often break regulations by operating in shallow water for better grip and to save fuel.
Mr. GS Chandranayake, Deputy Director of Fisheries (Acting) in Mannar said the Sunday Timesthe harvest of sea cucumbers in the region mainly depends on the weather conditions and the salinity of the sea. "There is a huge demand for dried sea cucumbers in the local export market, but local fishermen are not armed adequate equipment to travel far to harvest sea cucumbers," he said.
As local fishing communities worry about reduced fish catches and access to shallow waters due to the establishment of more sea cucumber farms in recent years, the ministry assesses current status of sea cucumber fisheries and stocks of dominant species in Jaffna, Mannar and Puttalam.
Mr. AM Riyas Ahamed, Senior Lecturer in the Department of Biological Sciences, University of South Eastern Sri Lanka said the Sunday Times that the overexploitation of a single marine organism such as sea cucumbers will have serious repercussions on the balance of the marine ecosystem in the long term.
"When an organism is isolated for mass harvesting on this scale, it will certainly impact the food chain of marine resources, as sea cucumber eggs and young larvae are preyed upon by fish and other marine animals. ", he explained.
According to Dr Steve Creech, the illegal cross-border trade in sea cucumbers from southern India is one of many often overlooked factors, along with narcotics, electronics and spare parts, that continues to drive illegal fishing by Tamil Nadu trawlers in Sri Lankan waters. a fisheries scientist who works with small-scale fishers in northern Sri Lanka.
According to Dr. Creech, Tamil Nadu's proximity to northern Sri Lanka; India's ban on harvesting and transporting sea cucumbers; Sri Lanka's well-established sea cucumber export industry and high demand from importers is a huge incentive for Tamil Nadu fishers to illegally harvest, process and transport Indian sea cucumbers to Sri Lanka.
"The large Tamil Nadu trawler fleet which continues to invade the territorial sea of ​​Sri Lanka then provides the perfect covert operation for the illegal cross-border trade in Indian sea cucumbers," he said.
As the industry booms thanks to the re-export of smuggled sea cucumbers from India, the Department of Fisheries is focusing on increasing opportunities for aquaculture and establishing more similar farms. Fisheries Minister Douglas Devananda said he had been made aware of complaints from some exporters, but said the reports were being verified.
"Our current focus is how to get more investment and aquaculture technology from other countries to develop our fishing industry to reach its full potential by establishing more fish hatcheries and nurseries. sea ​​cucumbers," Devananda said, noting that India, China and Vietnam have shown interest.
The best way to say you've found your dream home is to find it on Hitad.lk. We have listings of apartments for sale or for rent in Sri Lanka, whatever location you are looking for! Whether you live in Colombo, Galle, Kandy, Matara, Jaffna and more – we have them all!