Scotland pushes to revive langoustine exports but Brexit remains a stumbling block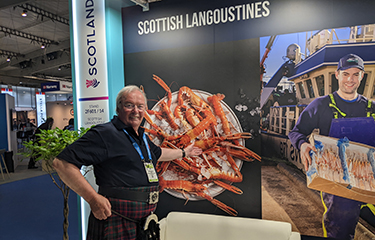 The Scottish seafood industry, with the help of the Scottish government, is working to revive its langoustine exports after years of decline.
Langoustine exports – also called langoustines (Nephrops norwegicus) – from the UK to major markets have almost halved over the past decade. Typically exported to Europe – the three main buyers being Spain, Italy and France – the UK exported a total of 18,000 metric tonnes (MT) of Norway lobster in 2010, the majority coming from Scotland .
However, exports of the product dropped to around 9,000 MT in 2019, and the situation has only worsened since then due to the COVID-19 pandemic.
In response to the decline, the Scottish Government formed a task force in October 2020, tasked with finding ways for the Norway lobster industry to emerge from the pandemic and improve the long-term stability and resilience of the supply chain. 'supply.
A report commissioned by Seafood Scotland, an organization that works to promote Scottish seafood, said langoustines are the most important shellfish species in terms of landed value and socio-economic importance to coastal communities. Scottish. In 2019, Scottish vessels landed £91 million (USD 114 million) of Norway lobster, making it the second most valuable stock landed in Scotland after mackerel. Scottish landings accounted for 43 percent of the world langoustine supply.
A high proportion of langoustines landed in Scotland enter the supply chain as tails, destined for the langoustine processing market – a fact noted by the report is a relatively unique feature of the UK market. The result is a diverse supply chain and a reliable market in the UK and Ireland, but tails are priced lower than whole langoustines. When the UK catering market crashed, the price of tails fell 20-30%, and that loss has yet to be recouped, according to Simon MacDonald, chairman of the West Coast Regional Inshore Fisheries Group.
MacDonald told SeafoodSource that the industry is divided into two main fishing groups: small-scale fisheries and large bottom trawlers.
"Most of the langoustines that are caught by a trawler, they follow them on board," he said.
Trap fishing accounts for a smaller amount of the overall volume, but the higher quality of the product leads to much of the catch being exported alive, "particularly to Europe," MacDonald said.
Business that has been hampered by COVID-19 is improving as lockdown restrictions are finally lifted in Europe, but some langoustine and langoustine fishermen and processors are still struggling to regain the levels of viability and profitability of before the pandemic. To make matters worse, Brexit continued to be an additional cost for all exporters – and according to MacDonald this problem is likely to get worse.
"We had all sorts of problems with Brexit, mainly with paperwork and costs," he said. "They have new health certificates that have just come out which are much more complicated than the ones we had before."
According to MacDonald, at the start of Brexit, shipments were blocked due to all the new requirements. The cost of paperwork is also high, reaching up to 600 GBP (740 USD, 700 EUR) per customer order, and the delay in introducing an electronic system means there is a considerable margin for error. , given the volume of paperwork that needs to be completed. At best, errors delay shipment, inevitably resulting in product spoilage, and at worst, the shipment is rejected or condemned.
"We had a whole consignment truck where they refused to sign due to poor ink quality," MacDonald said. "You are at the mercy of overzealous border control people."
New paperwork requirements also mean late orders cannot be fulfilled. Prior to Brexit, orders could be accepted up to a relatively late hour before dispatch. Some exporters have set up companies in France to receive shipments in one order, so only one set of certifications is required.
MacNeil Shellfish, a wholesaler in Scotland with its own logistics arm, has faced delays despite extensive preparation for the change, Libby McQuarrie, MacNeil Shellfish's export manager, told SeafoodSource.
"Even though we had planned a lot, it was still a challenge, there were so many unknowns," she said. "Indeed, Brexit has changed our whole administrative process in the office."
The border control process is complicated and requires information along the entire supply chain leading to the export of the product to the EU, she said.
"From the anglers to the last trip to the customers, we've had to implement a lot of changes to make our lives easier and hopefully make their lives easier too," McQuarrie said.
Seafood Scotland Langoustine program director Matthew Hurst told SeafoodSource the organization is working to resolve the issues.
"We are pressing the government to resolve the issues with Europe, now we are a third country supplier, and have also worked to set up consolidation centers where product can be inspected and documents checked before leaving," Hurst said.
As part of this effort, Seafood Scotland took a group of langoustine fishermen to Seafood Expo North America in Boston, Massachusetts, USA, and Seafood Expo Global in Barcelona, ​​Spain, to give them an insight into the chain. supply in the broad sense. The group visited retailers, restaurants and fish markets and was able to connect with potential buyers at trade shows.
"The tours made us feel connected to the markets, and it was good to get feedback from potential customers tasting our product on the Scottish pavilion," Iain Whiteman, a longtime langoustine fisherman, told SeafoodSource . "I spend most of my time on the boat, at sea, so visiting the shows was a welcome revelation."
Whiteman was impressed with the large untapped potential market in the United States, but acknowledged that several logistical hurdles needed to be resolved before deals could be struck, including a temperature-controlled hub at a major Scottish airport.
According to MacDonald, the construction of such a hub could be on the horizon, based on contacts he made at Seafood Expo North America.
"I had contact with Delta Airlines, who were piloting the opening of a hub in Edinburgh," he said. "This hub would streamline the supply chain in America, which is so important."
A more diverse market, he said, would alleviate some of the problems caused by the "complexities of the European market".
Photo by Chris Chase/SeafoodSource