Shrimp fishermen suffer 'worst season yet' as high fuel prices bite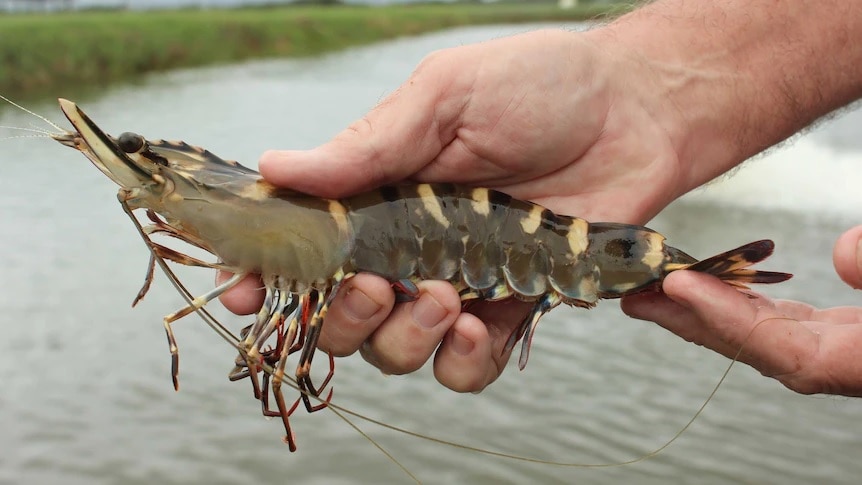 Shrimp trawler operator Ed Morrison thinks farming is going through ups and downs, but this year it's hurting more than usual.
Key points:
High fuel prices continue to cripple the shrimp industry
Shrimp fishermen choose to keep trawlers in port instead of fishing all season
Low rainfall in northern Australia has washed small numbers of prawns into the Torres Strait.
The North Queensland-based businessman operates prawn trawlers in the Torres Strait. His prawns are sold across Australia, but he says this year has been one of the worst seasons he has had.
However, retailers say any price hike would not improve the situation as consumers are unwilling to pay more for non-essential goods.
Meanwhile, competition between the farmed and wild fishing industries is also keeping shrimp prices stable.
The situation has led trawlers to question whether their operations are commercially viable or not.
Time is money
The exorbitant cost of fuel and the global supply crisis have forced operators like Mr Morrison to leave vessels in port instead of fishing them during off-peak times.
"Right now more than 50-60% of our money is going into fuel," Mr Morrison said.
"So that cost really doesn't leave much room for refits [boat maintenance]and that affects wages."
Mr Morrison said the government excise on fuel had not helped his bottom line.
"So [when the fuel price rose to] $2.10, that's when we had to decide if the boats were going and for how long," Mr Morrison said.
"Usually we send them for the whole month, but now we are considering sending them only for 14 or 16 days and withdrawing them because of the cost of fuel.
This impacts staff who receive a percentage of the catch, Mr Morrison said.
"All seasons go up and down, but we have to consider our crew – they have to get to work and are affected by the cost of fuel that way.
"But our crew gets paid as a percentage of what we catch. And if we don't catch that much because we keep the boats, their wages are affected."
Competition and impact on consumers
Shawn McAtamney, managing director at Independent Seafood Producers, said consumers won't be paying more for shrimp anytime soon.
This is due to competition between the farmed shrimp industry and the wild-caught industry, he said.
"In North Queensland, one of the other factors of concern is that there is a lot of dumping of prawns by the prawn farming industry.
"A lot of shrimp is currently dumped at prices that are definitely not sustainable, I don't think," he said.
Dumping occurs when the product is sold at prices below the cost of production.
"This reduces any possibility of raising prices in the domestic market.
"And that's putting a strain on the wild fishing industry because we just can't compete at the levels that the farmed shrimp industry is currently selling.
Mr McAtamney thought consumers would not react well to any price hikes on non-essential items like prawns.
"The consumer in general is also being strained with all the rumors of potential recession and inflation in the media at the moment.
"As a retailer, my instinct is to raise prices to help fleets, but I won't because I still want consumers to go out and eat shrimp.
Suffering shrimps but fish on the menu
As the prawn industry suffers, consumer interest in Australian barramundi has increased during the pandemic.
"We've seen that the pandemic has really changed consumer behavior," said Ken Chapman, barramundi farmer and ABFA president.
"We're all increasing production because everyone wants our fish, so that's very good news."
But as the industry grows, so do the challenges of building a workforce to meet demand.
"We're all having a little trouble finding enough staff to do what we need," Mr Chapman said.
Job , updated