The US seafood industry is 'crushed' by high tariffs and inflation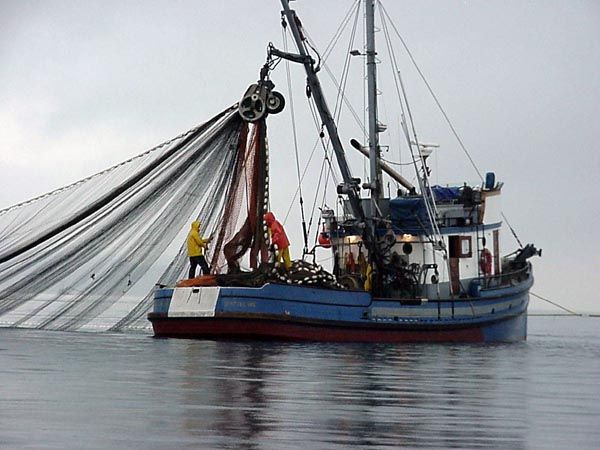 US duty-paid fish that enters China for processing, then back again when it returns to be sold on these shores
Fishermen are catching much more than seafood in their nets this year due to ongoing tariffs resulting from the U.S.-China trade war and skyrocketing inflation. The resulting effect has crippled much of the US seafood industry making it less competitive.
This is largely due to the amount of offshore processing done in China after the fresh catch has been retrieved from US waters. The tariff rates affect several varieties of fish, such as salmon, tilapia and tuna, as well as shellfish species such as crab and shrimp.
For more than a decade, America has been sending its bountiful ocean crops overseas to China for processing due to lower labor and operating costs.
Of the approximately 6.3 billion pounds of seafood Americans consume each year, more than 65% is brought back into the country.
This decision saved US companies about 80 cents per pound of fish in labor costs. With roughly 30 million pounds of salmon alone sent to China for processing from just one US supplier, the savings add up quickly.
However, offshore processing became a painful lesson in 2018 when the United States introduced a 25% tax on Chinese imports. Beijing retaliated the same year by imposing heavy tariffs on 128 American imports. Many of them are groceries, including seafood.
Some seafood shipments are subject to duty rates of up to 45%.
The industry's trawlers — launched from scenic ports over the past decade — account for 1.8 million jobs, $255 billion in sales and $117 billion in value-added impacts.
But rising seafood prices have forced some U.S. suppliers to shift to more affordable Russian fish imports since 2018.
Russia is one of the world's leading producers of seafood and the fifth largest producer of wild fish. It is a major exporter of pollock, which is used in products such as fast food sandwiches and fish sticks.
In 2021, the United States imported $1.2 billion worth of Russian seafood.
Offering cheaper prices on several species of whitefish and other fresh catches, Russia has become a major competitor for US domestic seafood.
In March, President Joe Biden banned Russian seafood imports as part of the sanctions package against Moscow for its invasion of Ukraine in February.
Still, some experts say Russian fish is continuing to find its way onto American plates this year thanks to the re-export boom in China.
Added to this is inflation this year. Seafood topped other groceries on inflated price tags, reaching an increase of nearly 17% in July.
Financial expert and CEO of The Smart Investor, Baruch Silvermann, told The Epoch Times that soaring inflation is weighing on all industries, including fishing and seafood in the United States.
"This is particularly visible in exports because the dollar is stronger against other currencies. As the dollar is stronger, this means that exports are less competitive and demand may remain weak," he explained.
"For example, while a euro could fetch $1.20 last year, today it fetches less than $1. This is a potential profit decline of 20%," Silvermann noted.
When it comes to imports and exports, Salvatore "Sal" Stile II knows his way around the yard. He is the president of the Valley Stream-based shipping and clearance company Alba Wheels Up International in New York.
Stile says the US fishing industry is "absolutely crushed" by a combination of tariffs, inflation and port logistics.
"Basically, it works both ways. Chinese tariffs impact American fisheries because most American fish is sent to China for processing," Stile told The Epoch Times.
After paying import duties upon arrival in China, American seafood is then returned for sale after processing. Once it reaches US shores again, the fish is subject to a second tax.
And while consumers see some of that financial burden in grocery stores, the vast majority is absorbed by workers in the industry.
"Our fishermen fish from small family boats here in the North Pacific. The cost of fuel, bait, ice and freight is astronomical," James Johnson, executive director of the Pacific Deep Sea Fishermen's Union, told The Epoch Times.
The union is the oldest of its kind in the United States – founded in 1912 – and claims the distinction of being the only American maritime union that represents the concerns of crew members.
Inflation and tariffs aside, Johnson explained that boat crew overhead and operating costs are extremely high to begin with.
"And then what's left over goes back to the crew and if there's a profit at the end, it's split between the crew and the property.
Fishing is kind of like a weird pattern," he said.
"Each fisherman is an independent contractor, they are not employees…so they bear a lot of the costs and liability directly. So I think when we see the cost of inflationary pressures, it's because it's borne by the fishermen.
This phenomenon is exacerbated by ongoing logistical complications at marine terminals.
The parking problem
According to Stile, even when American fishermen have the opportunity to sell their products, they face obstacles such as long wait times, a lack of space and skipped ports of call.
Lack of container space and congestion at U.S. ports has captured attention since the start of the pandemic due to reduced operational capacity and the ability to export or receive containers from overseas.
The situation has improved somewhat this year, but the same challenges remain.
"Some ports on the west coast still suffer from this problem. Some are not just sautéed; empty containers are not put back on ships," Stile explained.
The dilemma of space availability for empty containers at US ports is creating a chain reaction that is also impacting the struggling seafood industry. Stile explained that the empty container problem basically works like a parking lot.
"If you don't have enough cars coming out, you can't park."
The empty container debacle also becomes costly quickly, resulting in stops being canceled altogether to avoid heavy "detention" charges.
"You are charged for unreturned containers. I had a client who couldn't return the containers, it cost him tens of thousands of dollars," he said.
stay local
While commercial fishing largely suffers from high tariffs, the roughly 35% of the industry that retains its local production suffers no Sino-American trade fallout.
In Alaska, fishing is as much a part of life as scenic views of mountains and grizzly bears.
As of 2020, the fishing industry generates over $13 billion annually in economic output for the state and employs nearly 100,000 full-time people. This represents nearly 14% of Alaska's population.
Charlene Jones drives a propane truck through the town of Haines, located along the beautiful and secluded Lynn Canal in the southeast coastal region. When asked how important the fishing industry is to his area, Jones told The Epoch Times, "It's essential.
Haines is the kind of place where local family stores line the streets and self-sufficiency is a way of life.
There's not a single "golden arch" or branded gas station in sight.
Moreover, the city is also not crushed by tariffs since the processing of their seafood is done in the city and sold for local consumption.
"Haines Packing handles all commercial fish locally," Jones said.
Serving other coastal towns like Skagway and Whitehorse, Haines Packing has effectively shielded the local seafood industry from international tariffs since 1917.
In contrast, Kodiak is the commercial fishing hub of Alaska and is the third largest fishing port in the United States. More than 40% of salmon, 54% of cod, and a third of all seafood in the state are exported to China each year.
Although local or exported, fishing remains a delicate industry in Alaska.
"I know maybe 10 people who are commercial fishermen and that's what they do, but it only exists in the summer. It's a seasonal thing.
Jones admits "It's hard to find a job that pays your bills consistently."
Although despite the success of local seafood canning in Haines, Stile says it's unlikely the U.S. seafood industry will be able to introduce in-house commercial processing on a larger scale.
"Between OSHA laws, labor, storage facility costs, it's just not possible," he said.